Sponsorship Opportunities
---
Connect With Your Community
Why connect with Moon Township?

Whether you would like to reach the parents of school aged children, seniors who want to keep their mind sharp, or adults who stay connected with the community, you can share your message with local and regional audiences by teaming up with us.

Sponsorship opportunities allow individuals, social organizations, businesses and foundations to invest in the health and well-being of our community by funding events, programs and open space improvements. Residents of Moon Township, as well as neighboring communities, value our parks, programs and events as part of their everyday lives.

Moon Township Invites You To...
Build a Positive Image in the Community
Develop Deeper Relationships with your Customers
Encourage Active and Healthy Lifestyles
Promote Family Time and Fun in the Park
Reach Thousands of Potential Customers in the Region
Increase Your Visibility and Involvement in the Community
Our Gift to You for Choosing a Presenting Partnership
One Weekday Pavilion Rental in 2022
VIP Passes to the 2022 Moon Township 4th of July Celebration
Invitation to our End of Year Sponsor Appreciation Event

Become a Sponsor
Click on our 2022 Sponsorship Guide below to check out a variety of opportunities and ways to support!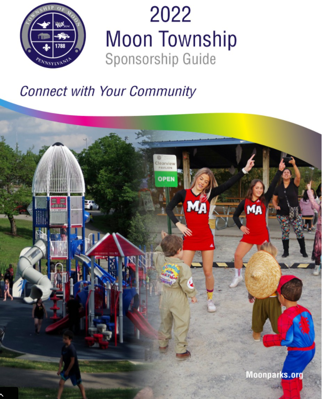 BRAND NEW for 2022: The Black Dog Wine Company Dog Park at Moon Park
The Black Dog Wine Company Dog Park at Moon Park is the greatest exposure to our Moon community and anticipated to open in the Spring of 2022! The Dog Park is expected to attract thousands of patrons each year. Research shows that people support businesses that support parks, and dog parks in particular. One out of every four people visiting the park brings along their furry companion!

A Pup & Wine Lovers Event!
Presented by the Moon Parks Foundation
Date: Thursday, March 31st
Time: 5:00-8:00pm
Location: Black Dog Wine Company, Oakdale
Fee: One ticket per $75 donation
Click Here to Purchase Your Ticket
Business casual attire. Pups welcome outside. Registrants must be 21+.
Calling all pup & wine lovers! Enjoy a night out while giving back to the community!

Join us for a fun evening at this indoor-outdoor event to support the new dog park coming in Spring 2022. Your donation will also benefit local organization Canine Service Pals. The event will feature delicious hors d'oeuvres by Bistro to Go, Black Dog Wine Company wines (and non-alcoholic beverages), DJ entertainment, raffle items, giveaways, live caricature artist, pop-up shops & more!

Look Whose Sponsoring in 2022!
Start Your Sponsorship Today
By becoming a Moon Parks & Recreation sponsor, you'll receive a variety of benefits including:

Your company named featured on all signage, media and promotional materials for sponsored event
Your company name featured on Moon Parks & Recreation sponsorship website
Space for a promotional booth with the opportunity to distribute marketing materials at sponsored event (must be pre-approved)
Social media posts on Moon Parks & Recreation Instagram and Facebook pages in relation to sponsored event

Call or Email for More Information about Sponsorship Opportunities!
Lauren Madison
Community Outreach Coordinator
412-262-1703 X402