Programs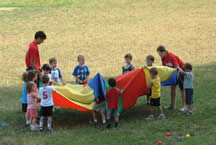 Moon Parks & Recreation Programs for All Ages
There's no need to be bored in Moon Township.  Moon Parks & Recreation provides a variety of activities and programs sure to please residents of all ages.
There are four ways to register for most of our classes
You can sign up in person at the park office.
Limited online registration is now open here.
You can call the Parks office at 412-262-1703 to pay with credit card.
You may send in a check to our mailing address with the participants name, date of birth, address, phone and e-mail. You will not be officially registered in the class until you receive a confirmation e-mail.
If you have any questions about registration, prorating or cancellation of classes please refer to our Program Policy here: 2013 Program Policy
Nothing cancels a program quicker than everyone waiting until the last minute to register for it!  At some point we have to determine if our enrollment is sufficient to hold the class.  If you wait to sign up at the first class, the program may already be cancelled due to low enrollment or the class have reached its maximum limit.

ONLINE REGISTISTRATION NOW OPEN FOR SELECT CLASSES
Get Involved!
The Moon Parks & Recreation Department is looking for talented individuals who would like to teach classes or programs. If you would like to share your talents with the community and teach a class, please contact the parks department at 412-262-1703 or email us at info@moonparks.org.