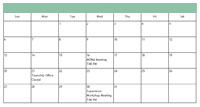 Special Events
Father's Day Fun Fair at Moon Park-June 16, 2013 12:00-2:30pm Come out and join Moon Parks and Recreation for another fun family friendly event. Father's Day is a perfect time to spend a day with your kids at the park! Tons of activities including Airbrush Tattoos, Inflatables, FREE LUNCH, prizes and more! Don't forget to stay around for the ventriloquist show from 2:00-2:30!
Twp of Moon 5K Run/Walk- June 29, 2013 9:00am
Please join Moon Parks, your friends and neighbors and area sponsors for a fabulous family fitness event. This is the 5th year for this event. The 5K event begins in the GPOA parking area and features some challenging hills mixed with gently rolling paved roads around Cherrington Business Center and Township Roads.
US Army 28th 'Keystone Division Concert Band in Moon Park-Wednesday July 3, 7:00pm
With a history of service that predates the American Revolution, the 28th 'Keystone' Division Band, based in Hollidaysburg, PA, is among the top performing Army National Guard Bands in the nation today. The 40 member concert band will perform music from contemporary to classical, rousing Sousa Marches and beautiful ballads.
Moon Township Independence Day Celebration-July 4, 2013 4:00-10:00pm
Join us for some great live entertainment, kid's activities, food and merchandise vendors, and Zambelli Fireworks Internationale! Kids' activities start at 4:00pm, Entertainment at 7:00pm, Fireworks after 10:00pm. Schedule of events: Kids' activities, Arena's Performing Arts Centre, The Stony River Boys, Sarah Marince, Zambelli Fireworks Internationale.
Family Fun Nights-Friday nights June-August 2013
Concerts start at 7:30pm, Movies start at Dusk
Concerts
June
7-Finally Free (High Energy Classic Rock)
14-JD Eicher and the Goodnights (Subtle Pop)
28- Lava Game
July
12- The Express
19- Swingin' Bobcat Big Band
Movies
July
26- Madagascar 3
August
2- Muppets
9- Wild World of Animals (live entertainment event)
16- Hotel Transylvania
23- Lorax
30- Timothy Green
Robin Hill Lunchtime Concerts-3rd Wednesday, May-September, Noon-1pm
May 15- Ben Shannon (Rootsy Folk Rock)
June 19- Brooke Annibale (Acoustic Pop/Folk)
July 17- Steven Vance & John Garrick
August 21- Jason Kendall (Jazz)
September 18- Frank Viera (Country)